Books For Your Inner Lover
How to be an Adult in Love by David Richo

We were made to love and be loved. Loving ourselves and others is in our genetic code. It's nothing other than the purpose of our lives—but knowing that doesn't make it easy to do. We may find it a challenge to love ourselves. We may have a hard time letting love in from others. We're often afraid of getting hurt. It is also sometimes scary for us to share love with those around us—and love that isn't shared leaves us feeling flat and unfulfilled. David Richo provides the tools here for learning how to love in evolved adult ways—beginning with getting past the barriers that keep us from loving ourselves, then showing how we can learn to open to love others.
The Mastery Of Love by Miguel Ruiz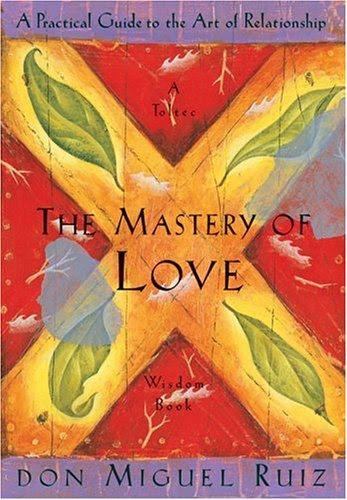 In a refreshingly honest investigation of the true nature of love, don Miguel Ruiz brings to light the commonly held fallacies and misplaced expectations about love that permeate most relationships. In the tradition of Carlos Castaneda, he uses inspirational stories to impart the wisdom of three fundamental Toltec masteries (Awareness, Transformation, and Love). The themes explored include the Toltec wisdom of the heart, the track of love, and the war of control.
The Way of the Superior Man by David Deida

The Ultimate Spiritual Guide for Men What is your true purpose in life? What do women really want? What makes a good lover? If you're a man reading this, you've undoubtedly asked yourself these questions—but you may not have had much luck answering them. Until now! In The Way of the Superior Man, David Deida explores the most important issues in men's lives—from career and family to women and intimacy to love and spirituality and relationships—to offer a practical guidebook for living a masculine life of integrity, authenticity, and freedom. Join this bestselling author and internationally renowned expert on sexual spirituality for straightforward advice, empowering skills, body practices, and more to help you realize a life of fulfillment, immediately and without compromise. "It is time to evolve beyond the macho jerk ideal, all spine and no heart," writes David Deida. "It is also time to evolve beyond the sensitive and caring wimp ideal, all heart and no spine." The Way of the Superior Man presents the ultimate challenge—and reward—for today's man: to discover the 'unity of heart and spine' through the full expression of consciousness and love in the infinite openness of the present moment.
Dear Lover: A Woman's Guide to Men, Sex, And Love's Deepest Bliss by David Deida

Every woman knows the fairy tale: find the right man, give him what he wants and needs, and he'll love you forever. But when the myth you've been asked to believe fails to deliver-when you sense you've been settling for far less than you know in your heart is possible-how do you attract and keep a man capable of meeting what you most passionately yearn for?
Dancing with the Beloved by Paul Ferrini

"Romance may open the door to love, but it does not help us walk through it. Something else is needed. Something deeper. Something ultimately more real. Challenging times must be weathered. Love must be strengthened beyond neediness and self-interest. It must die a thousand deaths to learn to rise like the phoenix beyond adversity of any kind. Love is not a fragile, shiny thing, kept separate from the pain and misery of life. It is born of our willingness to learn from our mistakes and encounter the depth of our pain, as well as our partner's pain. That is the way it is. In time we learn that all pain is the same pain. And we have compassion for the other people who inadvertently step on our toes as they learn to find the inner rhythms of the dance. Like us, they will stumble and fall hundreds of times until that moment of profound acceptance when grace comes and the beloved takes their hand in the circle."